2021
ACURA RDX BASE:
$1,995.00 down,
$658.46 plus taxes
and fees at 1.99% for 27 months
INFINITI QX50 VS. ACURA RDX
A CLASS ABOVE
Luxury is better with a human touch. The INFINITI 2021 QX50 proves it beyond doubt. Equipped with more advanced safety and exceptional functionality, it surpasses other premium crossovers. Compare it to the 2021 Acura RDX and see for yourself. The QX50 raises the bar, because it's about more than just performance and design. It's crafted to elevate the everyday.
2021
QX50 PURE:
$1,995.00 down,
$499.00 plus taxes
and fees at 1.99% for 27 months
Hidden white block sepearator
SUPERIOR SAFETY
INNOVATION FOR THE WIN
INFINITI believes in making next-generation safety more accessible to all. That's why the QX50 offers premium driving innovations without the premium price. To empower you at the wheel, it comes standard with some of our most advanced Driver Assist Technologies. Discover them for yourself, and see why this luxurious crossover is miles ahead of the Acura RDX.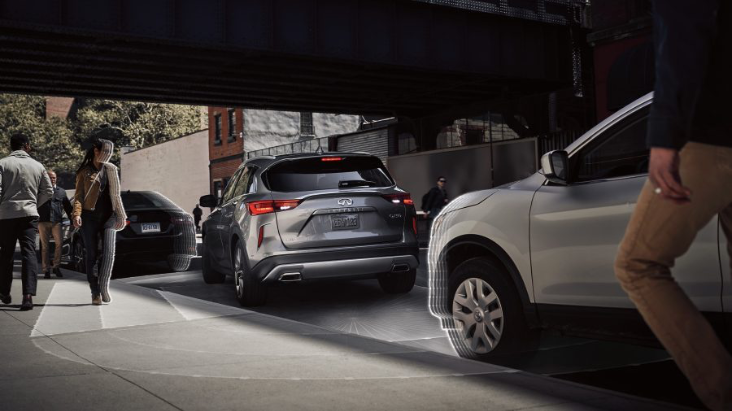 BETTER BACKUP
Using rear sensors, the Acura RDX alerts you to potential hazards as you reverse. With standard Backup Collision Intervention, the INFINITI QX50 does this and more. It warns you when obstacles appear behind you, automatically applying the brakes to help you avoid them. Because you deserve more than a warning – you deserve peace of mind. [*]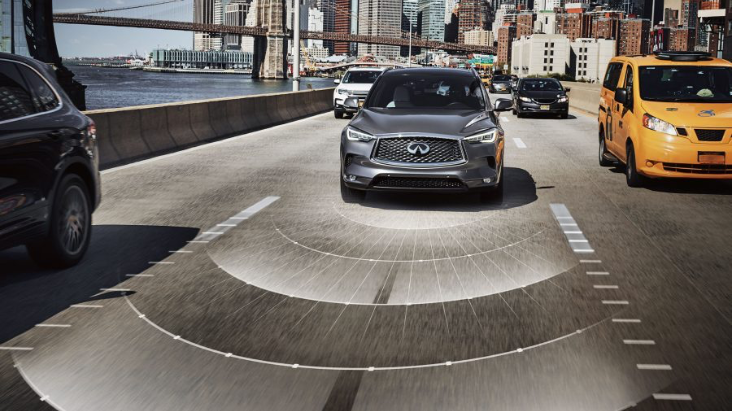 STAYING TWO STEPS AHEAD
See farther and anticipate hazards. With standard Predictive Forward Collision Warning, the INFINITI QX50 can monitor the two cars ahead. It warns you when one suddenly slows down, so you can respond in an instant. That's another step further than the RDX, which only tracks the vehicle directly ahead. [*]
| | 2021 INFINITI QX50 | 2021 Acura RDX |
| --- | --- | --- |
| Backup Collision Intervention (BCI) | Standard | Not Available |
| Predictive Forward Collision Warning (PFCW) | Standard | Not Available |
DISTINCTIVE DESIGN
BEYOND BOLD LOOKS
Luxury is about more than craftsmanship and style. It's about first-class comfort, everywhere you travel. There's no question, the INFINITI QX50 is elegant and bold. But when you step inside, the spacious cabin is every bit as functional. Designed to accommodate a busy life, its versatility overshadows the Acura RDX. Discover the details that set our premium crossover apart.
SEATS FOR EVERY SCENARIO
Offer premium comfort to all who ride. The QX50's sliding and reclining second-row seats let passengers find the perfect seating position. They also enable better access to your cargo, with the ability to glide forward and fold out of the way. With INFINITI, luxury adapts to the moment.
BRING MORE ON BOARD
IWhether the rear seats are upright or folded, the INFINITI QX50 fits more in the trunk. Here, you can access a maximum cargo capacity of up to 1,842 litres. That eclipses the Acura RDX, which offers 1,668 litres with the seats down. Because compromise should never be an option.
MADE TO HEIGHTEN YOUR SENSE OF TOUCH
The INFINITI QX50 boasts a high-definition dual touchscreen display. View your navigation on the top screen, and access all your apps on the one below. Compared to the small centre screen on the Acura RDX, this display is in a class of its own. Equipped with standard Apple CarPlay® and Android Auto™, the connection is completely seamless. [*]
| | 2021 INFINITI QX50 | 2021 Acura RDX |
| --- | --- | --- |
| Sliding and Reclining Second-Row Seats | Standard | Not Available |
| Max Cargo Capacity (Seats Upright) | 889 L | 835 L |
| Max Cargo Capacity (Seats Folded) | 1,842 L | 1,668 L |
| Dual Touchscreen Display | Standard | Not Available |
HIGHER TOWING CAPACITY
STRENGTH IN NUMBERS
Take advantage of performance that pulls more weight. The INFINITI QX50 comes standard with the world's first VC-Turbo engine. It adapts to your drive, generating more power or efficiency as needed. With 268 horsepower, it also delivers a maximum towing capacity of 3,000 lbs. That's double what the RDX can provide.
INFINITI QX50 VS. ACURA RDX
COMPARE TOWING CAPACITY
| | 2021 INFINITI QX50 | 2021 Acura RDX |
| --- | --- | --- |
| Max Towing Capacity | 3,000 LBS | 1,500 LBS |
VIEW INVENTORY